News
Subscribe to posts
Congratulations to Munford Middle School student Ashlyn Cernigilia who took 1st Place in the District 9 Patriot's Pen Contest. The Patriot's Pen Contest is sponsored annually by the VFW and is open to students in grades 6-8. The essay contest encourages students to examine America's history, along with their own experiences in modern American society, by writing a 300-400 word essay expressing their views based on a patriotic theme chosen by the VFW Commander-in-Chief.  Ashlyn's entry has been sent to the Department of Tennessee VFW's Patriot's Pen Contest to be judged with 10 other entries.  Good luck to Ashlyn as she moves on to state competition!
The State Collaborative on Reforming Education (SCORE) has announced the winners of the
fifth annual SCORE Prize
, which honors Tennessee public schools and school districts with student achievement results that make them leaders in learning in the state.  During the celebration, 
Weston Downing, a senior at Covington High School, won a Students Rise to the Challenge (SRTTC) scholarship worth $1,000 by submitting a video entry that described how one of his teachers helped him overcome an academic challenge. 
Weston created
a video
about the coaching his teacher, Melissa Barrell, provided to help him raise his math ACT score by 5 points.  
The SCORE Prize event was held on Monday, October 26, 2015 with an audience of nearly 1,500 at Schermerhorn Symphony Center in Nashville, TN.  The evening was hosted by Senator Bill Frist, M.D.,
 the founder and chairman of SCORE.
Covington Integra
ted Arts Academy (CIAA)
celebrated it's Reward School status Friday, September 18, 2015. Parents and other community members joined students and faculty for a parade and balloon release.  CIAA was recognized by the Tennessee Department of Education as a Reward School for progress.  This recognition was achieved by being in the top 5% of schools in the state for academic growth.
As each grade level paraded they celebrated one of the tenet's of the "Leader in Me" program.  
The Leader in Me
is
FranklinCovey's
whole school transformation process. It teaches 21st century leadership and life skills to students and creates a culture of student empowerment based on the idea that every child can be a leader.  CIAA began implementation of this program during the 2014-15 school year.
Covington's Historic Ruffin Theater was transformed into a magical underwater world last week. From the directors of "Hairspray," "The Little Mermaid" performances ran Friday, May 15 through Sunday, May 17. 
Covington Aquatic Center sponsored the play. Directors Jeff Moore and Lindsay Bowman organized a group of talented cast members from both the Brighton Middle School and High School Choir to bring this underwater favorite to life.  
The timeless musical incorporated songs from the Academy Award-winning animated Disney film as well as some from the Broadway show.  L
ights and fog added to the motion of rippling waves on the stage and the set boasted a gorgeous glowing ribbon reef and beautiful costumes. 

Throughout the week classes from Tipton County elementary schools took field trips to the Ruffin to watch the play, a first for the Ruffin and theater department. Countless teachers, students and parents complemented the performance.
The complete cast is Master Chef; Arthur Abbot, Scuttle; Makenna Amundson, King Triton; Brett Armour, Flotsam; Abby Barge, Sea Creatures; Erin Bentley, Rachel Carpenter, Alyssa Clausen, Javion Lightfoot, Jaci Owens, Abigail Stimpson ,and Sydney Waits, Princesses; Crystal Brogden, Cassie Davis, Christina Evins, Emily Moschitta ,and Lauren Turner, Sebastian; Aden Campbell, Chefs; Ava Christopher, Rylee Coleman, Holly Elston, Anna Findley, Casey Harper, Allison Palmer ,and Melody Webb, Flounder; Cade Forbes, Mersisters; Mikayla Harden, Claire James, Grace Mahoney, Brittany Meyer, Mary Roe ,and Anna Weber Ariel; Alyssa Jock, Seahorse; Lily Kozlosky, Jetsam; Amelia Kozlosky, Sailors; Hollis Miller and Daniel Piedra, Prince Eric; Josh Pickett, Pilot; Nathan Thomas, Ursula; Ally Wallace, and Grimsby; Tyler High.
Production staff members are, directors; Jeff Moore and Lindsay Bowman, backstage manager; McKenzie Huffman, costume design; Donna Meili, lights and sound; Raven Bourque, Kurt Mayo, and Jarred Twisdale, choreographer; Otis Smith, set design, props, special effects and construction; David Dehoff, Terry Lea, and Jeff Moore makeup; Lyndsie Moore, set crew; Elizabeth Butler, Katie Brown, Miranda Cook, Emily Schneider, and Harley King.
All cast and crew members did a spectacular job!  
Photo credits: Bette Cigalotti
On Monday, April 20th from 6:00-7:30 pm 
MES host its anual art show and over 775 works of art will be on display! 
Special guest artist Adam Exelbierd will also be there to unveil his latest art! Come take in the amazing student work AND watch our guest artist at work, see his art, shop, and support the MES Art Department.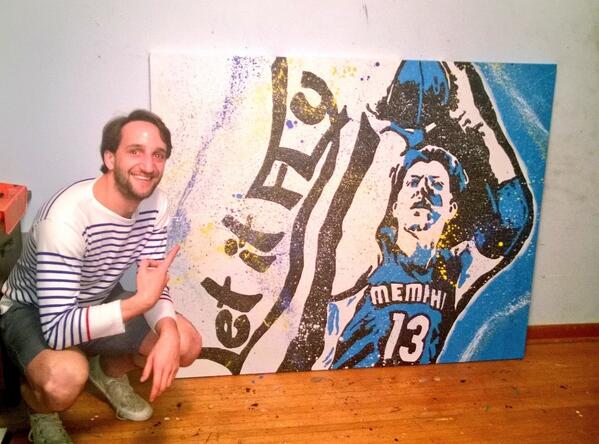 Admission is free but donations are welcome!
"Teachers of the Year" were honored during the Principals' Meeting March 11, 2015.  Congratulations on this recognition of your dedication to your students and to the profession. 
Heather Bourque, Brighton Elementary PreK-4
Sherrye Lynn Dodson, Munford Elementary 5-8
Cory Concus, Covington High 9-12
Candice McQueen, Tennessee Education Commissioner recently visited Covington Integrated Arts Academy and wrote about her visit to Tipton County. 
"I witnessed students with leadership skills, such as project management and problem solving, and communication skills that the principal reinforced in every conversation as she gently reminded them how to greet visitors or confidently share their accomplishments.  Students were eager to share in every classroom and did so with ease, eye contact, and energy.  Teachers were equally confident and quickly shared their academic goals and how they knew their students were reaching these goals.  Moreover, teac
hers and students were owning their academic results and displaying these results all over the building."  Click here to read the full story.   
Keep up the great work CIAA! 
What is a playwright? What was "The Globe"? Did William Shakespeare want or expect us to read his plays? Who acted in Shakespearean plays? Why was there violence in so many of Shakespeare's plays? Have you ever heard of iambic pentameter? At Covington Integrated Arts Academy, these questions, and many more, were answered and explained with historical accuracy through the work of Slade Kyle, resident artist and teacher with Tennessee Shakespeare Company. Tennessee Shakespeare Company (tnshakespeare.org) is the Mid South's professional classical theater and education organization. As part of the arts integrated curriculum at CIAA, Mr Kyle spent three days in classrooms at the school working with students.  He discussed the history of the Shakespearean era, including culture, lifestyles, and the roles of actors in Shakespearean plays.  Students learned that men played all the parts in the dramas. They role-played some of the play selections and learned how dance was an integral part of the culture.  Students practiced the curtsy and learned that people practiced specific dance moves to build strength, agility and sparring skills.
In Shakespeare's world, there were two classes of people....The Court and the Country.  The court were haughty sophisticates who were born into this class.  The Country people were the common folk and entertained themselves with fun, community dances, which the students learned with Mr. Kyle's instruction and original music from the era. They talked about the rhythm of the heart and how Shakespeare embedded the rhythm of the heart in the his writings.
In addition to learning background and history of Shakespeare's writings, the initial instruction was to prepare the CIAA students for the performance of Romeo & Juliet, which was presented at the school as the grande finale. He acted out some of the roles of various characters and gave background for various scenes in this and other plays.  Students were glued to his animation and enthusiasm, and were not just passive observers. Mr. Kyle involved them in physical activities, dancing, and role playing.  CIAA principal Sara Gangaware said, "As students spread he news of the experience, you would hear them say, 'this was fun', 'you are going to love this', and 'I learned a lot 
today
!' Every principal loves to hear this kind of excitement about what is happening in their classrooms!"


Sara Gangaware, Principal
Covington Integrated Arts Academy 
Congratulations to Atoka Elementary School for being recognized as a "Reward School." Keep up the great work!






Dr. William Bibb, Tipton County Director of Schools, was recently named as the Athletic District 8 School System Administrator of the Year. The Tennessee Secondary School Athletic Association (TSSAA) gives these awards annually during the A.F. Bridges Awards ceremony. This year's awards ceremony was held at USJ in Jackson, TN. These awards are given in recognition of the ideals of ethics and integrity in the teaching and promotion of citizenship and sportsmanship. Congratulations to Dr. Bibb and thank you to all of our athletes who displayed sportsmanlike conduct throughout this past athletic season.